Library
Welcome to the Richard W. Bailey Library at Washtenaw Community College!
Library Mission
Aligned with the College's mission and strategic directions, the Bailey Library, named in honor of the long-serving college trustee, Richard W. Bailey, is committed to its mission of being an integral part of the teaching/learning landscape, where users' critical information literacy leads to transformative knowledge and behavior as lifelong learners.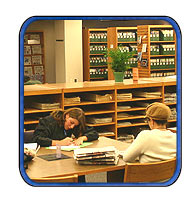 In serving the educational needs of students and faculty, the Bailey Library aims to play two complementary roles: as the physical hub of a vibrant learning community, and as the portal of choice for access to knowledge resources.
We hope that in entering the Bailey Library, both physically and electronically, you will find a gateway to a world of possibilities.
User Services Statement
The Bailey Library subscribes to a user-centered service philosophy.
On the one hand, we are a teaching academic library educating students in critical information literacy, an intellectual habit essential in navigating independently the ever expanding information universe. On the other hand, we are a service library fulfilling to the best of our ability users' information and related needs.
In realizing this philosophy, all library staff aims to:
Create a user-centered, friendly, welcoming community space of learning.
Treat every user with respect, attentiveness and dignity.
Address and meet users' individual needs to the best extent possible.
Provide the highest-quality service possible in an efficient, timely manner.
Contact Information
Please see the Contact Information page for how to contact the Library staff.
Library Liaisons to Academic Departments
The Library encourages faculty to assist and/or make recommendations for new library materials. See the Library Liaisons to Academic Departments for a list of librarians and contact information for your discipline.
Policies
Code of Conduct
More About the Bailey Library